Natural light, sunlight, daylight… when was I last approached by a client keen to optimise their artificial lighting? I'm not sure I have been. Yet, artificial light is equally important, and there is great scope for creativity. Rarely does it get the same attention as the burning ball of fire in the sky but do give it some thought, for the evenings, or anytime past 3 o'clock and early morning mid winter!
Set the tone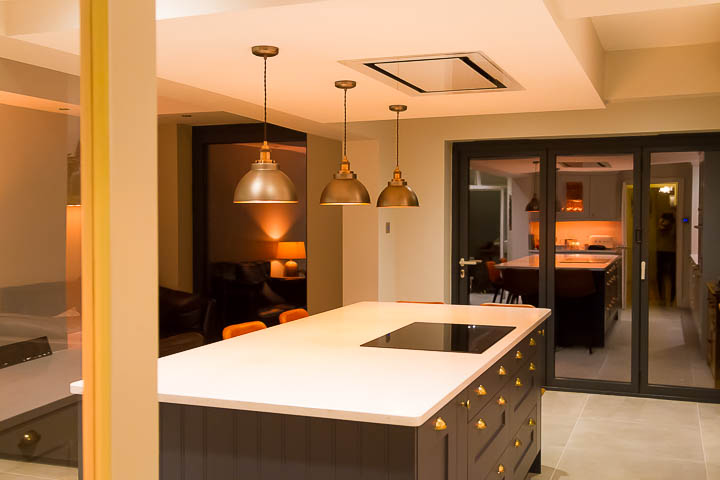 Lighting can make or break a space. Perhaps even more than furnishings the lighting anchors the feel of the space, the mood – warm or cold, bright or soft, utilitarian or cosy. Colour temperature sets the tone of the space, makes you feel calm and relaxed, or focused. Not to mention you can get some killer light fittings, which with their own sculptural beauty are a focal point and an opportunity for you to turn your extension into an art gallery of sorts.
Pendants, popular, good over an island if it's fixed but do take care if you use them over dining table if you're likely to move it at all. You'll probably need some other lighting too if the design of your pendants focuses light downward rather than being omni directional. Task lighting is useful but there will always be times when you will need a good light level over the whole space.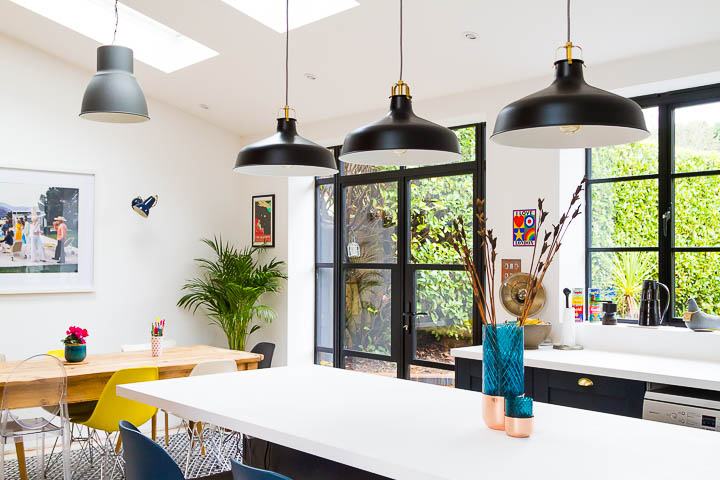 Take care that your lighting scheme is informed by your furniture layout but make it versatile enough, zoned for different uses. Ceiling lights are a no-brainer in kitchens and utility areas, whilst wall lights or floor lamps may be preferred for living spaces. When it comes to fittings shop savvy, if you love something invest but remember light fittings are easy enough to change. Go and look at what you're buying in person if you can – the world wide web has never ending options but be sure to consider the dimensions of what you're ordering so that they don't look out of place.
Practicalities
How your lights are wired on different circuits and switch positions is also worth considering. Do you want to be able to switch from more than one position (the typical hall/landing scenario), do you want some lights on and others off at certain times? It's becoming less important as the use of smart lighting becomes more mainstream but don't overlook it entirely.
Often it seems to soon to be sitting down with your plans, before you've even got your building, to be talking about lighting. Although getting something on your drawings to reflect your intentions, even if it's not the final design will go a long way to getting your electrical costs tied down. Electrical works are often priced on a per point basis so making your intentions known will ensure the tender accurately reflects your aspirations and not someone else's assumptions.
Light up the dark
External lighting is often forgotten but will bring your extension to life in the evening. Be that some wall lights you can sit out with late on a summers evening, feature garden lighting to steps and planting or simply a light so you can see to out the bins out. Think through how you'll use your home and capture those scenarios.
Get your artificial lighting right and your extension will be fabulous and functional, day and night.