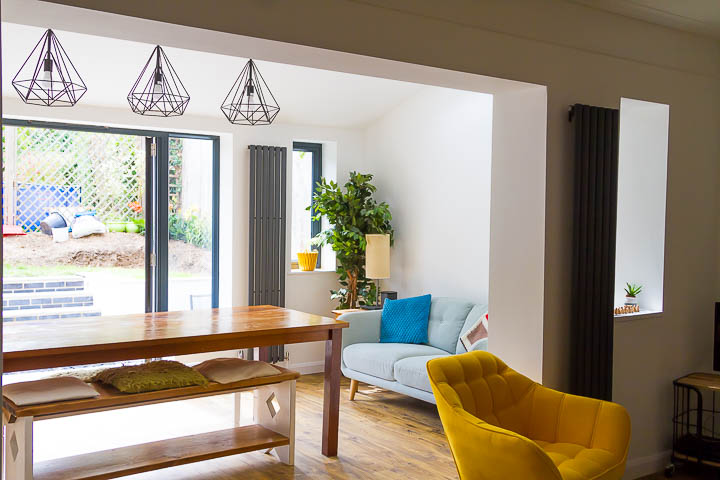 A table too big
This family lived in a 1930's semi with a garden that banked steeply up at the rear. The property was already extended with a loft as well as garage conversion which now housed the kitchen. A separate dining room across the hall contained the dining table – an important artefact in this story, it was hand built by my client. Yet, the table was simply too big for the dining room, it needed a new home, somewhere it could take pride of place and where the family could use it without excusing one another to get up and down.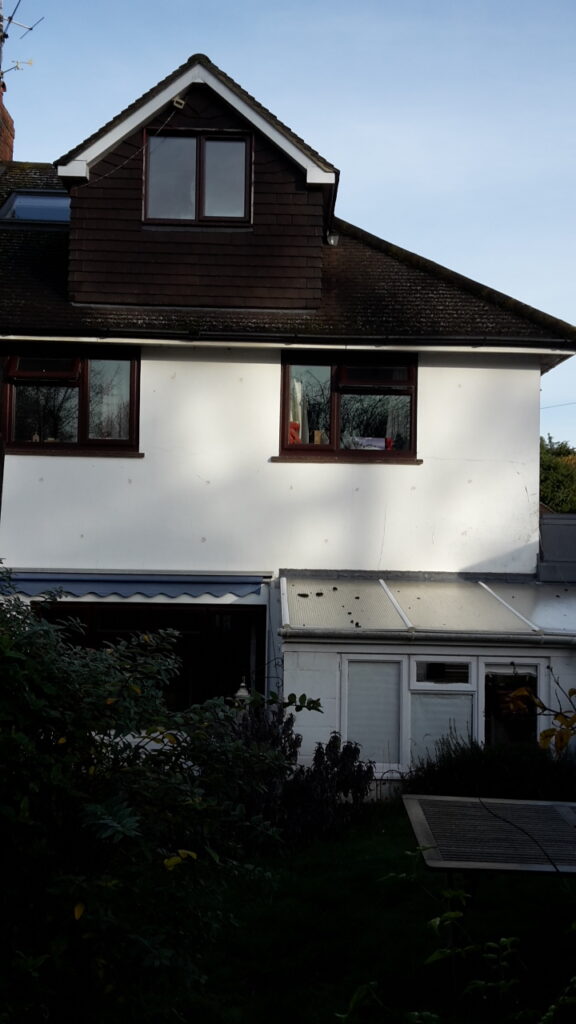 The existing landscaping of the garden posed an issue for a rear extension, the garden would need some serious intervention too in order to make some space. And with access only though the existing garage (now kitchen), a whole literal heap of mud was about to get barrowed through the house.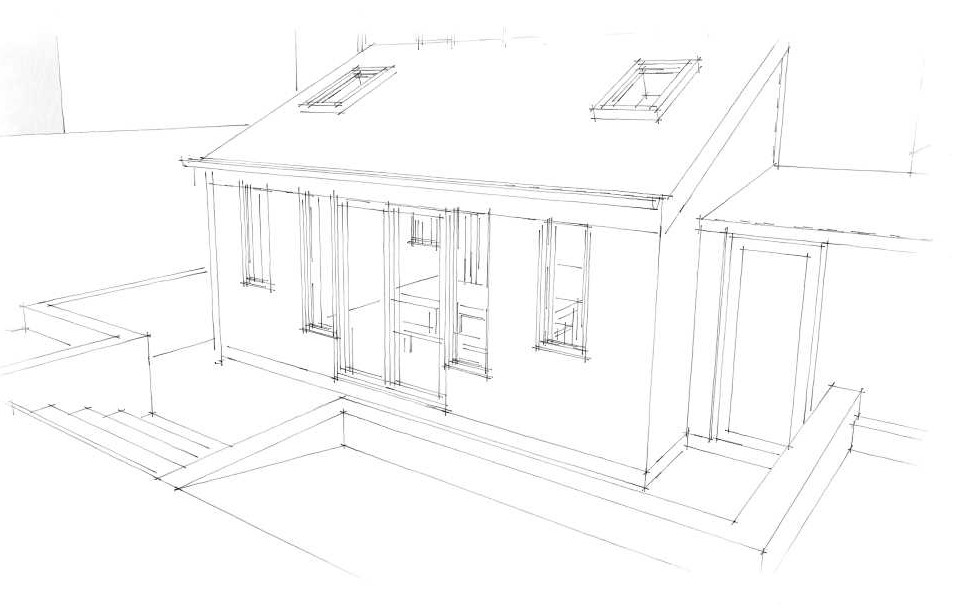 A steady pace
Almost a year after the Planning Permission was granted the building work began. Building Regulations approval obtained and Party Walls Awards in place, the dream was finally on it's way to becoming a reality.
More than willing to wait for the builder of their choice, we soon hit a hurdle when COVID hit and a lockdown forced things to slow down. Whilst building work continued with a very small team, the interaction between client and contractor was reduced to a text message or brief chat through the window here or there. With considerable ground works to create the new terrace outside and the extension works contained for the most part to outside, work was able to continue at a steady pace.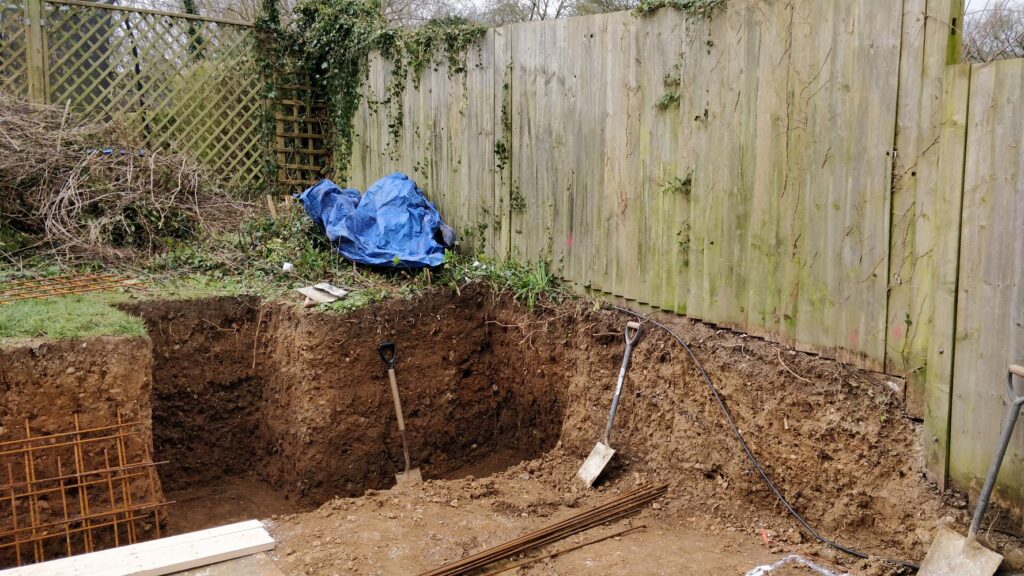 Having been asked by my clients to help them manage their project through the build phase, I arrived for my site visits just as the builders were leaving. It gave me plenty of time to run my eye over things uninterrupted. Clients safely locked down in their own home, I'd phone them afterwards from their driveway to update them, strange times.
"We had no idea what to expect or what to do and Carly helped us at every step using her extensive knowledge and wonderful attention to detail. Every meeting and decision was logged and Carly signed off on each milestone. We really felt we were in safe hands."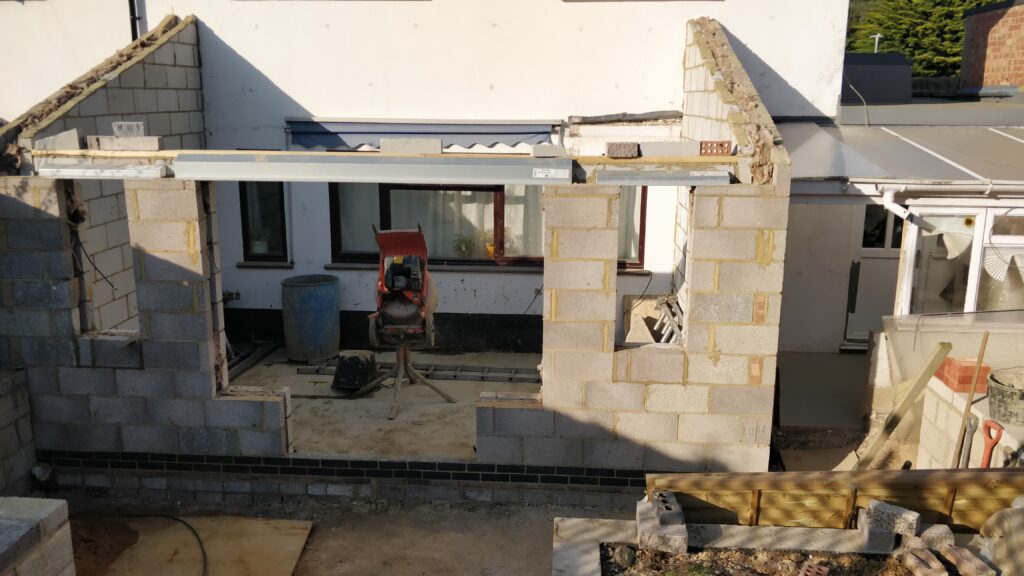 With doors and windows in short supply due to manufacturing shutdowns we opted for a more contemporary look, without the glazing bars we had intended. They matched well with the charcoal bricks as well as the grey radiators and wire framed pendant lights that were later selected.
Transformation
On the summers day that I return to take photos, the new extension and terrace are a little suntrap. It feels a million miles from the winters day I first visited to meet them. The retention of the existing window openings between the lounge and dining space form little trinket nooks with the new windows mirroring them and roof lights set between.
The new layout has absolutely surpassed expectations. The house flows beautifully and we absolutely love the space.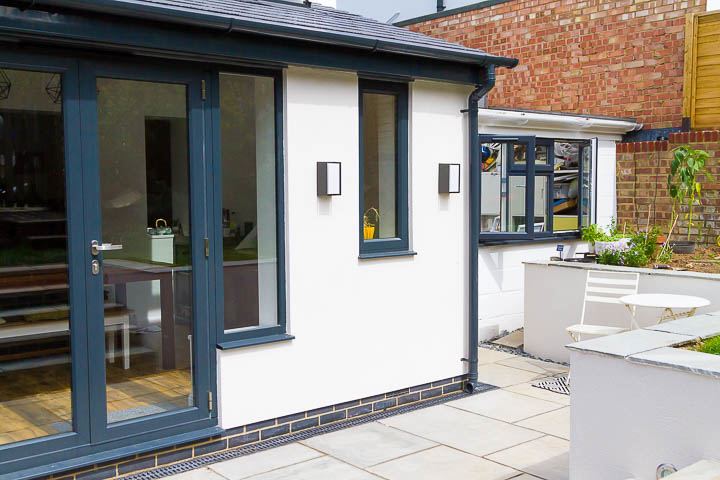 Building work completed Summer 2020 by AJH Building Services Ltd
Products and Suppliers: Doors and Windows – Origin, Flooring – Quickstep LVT, Roof lights – Velux, Render – K-Rend